| | |
| --- | --- |
| 18 June 2015 | Beat Grime and Dirt with these 8 Home Cleaning Tips |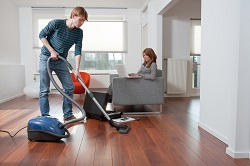 Every house accumulates clutter and can become a little messy from time to time which is why the whole family should get their rubber gloves on and tidy the house every so often. If your home is in need of a serious clean up or if you are moving out of a rental and have to leave the place looking spotless, these tips will help you to defeat grime and dirt in the home.
1. Clean the Fridge
The fridge must remain fresh and clean to preserve food better. Every so often, remove all of the food and beverages from your fridge and give it a good cleaning. Take out the shelves and wash them at the sink with some warm water and a few drops of washing up liquid. Leave them to air dry and get started on the fridge interior. Kitchen cleaning isn't complete until the fridge is clean. Wash the inside with either an appropriate cleaner spray or water and washing up liquid. Once it is cleaned you can start moving your food back in again.
2. Mop Floors with Soda
A common solution to clean tiles is to mix some soda with warm water and use it to mop the floors. Open the windows to speed up drying time and make sure that you reach all the corners of the room to ensure a full floor cleaning.
3. Vacuum in Different Directions
If your carpet has become a little dull and lifeless over the years it may be time to hire a cleaning company to come and clean your carpets. Before the professional cleaners arrive, give them a head start by vacuuming the floor well beforehand. Because carpet fibres tend to be twisted, simply vacuuming in the same direction will not do much good. Vacuum in multiple directions to encourage better results.
4. Oven Cleaning with Vinegar and Soda
Soda seems to be a life saver when it comes to house cleaning so it is no surprise that people often use it with white vinegar to get rid of food residue inside their ovens. Wipe excesses away with a clean dish cloth and enjoy a cleaner oven in under 30 minutes.
5. Wipe Windows with Newspapers
Forget wiping windows with cloths, the best tool to get your windows shining bright is to use old newspapers. People have been using this cleaning method for generations and it remains one of the best ways to get gleaming windows.
6. Dust Cobwebs
If there are a few unattractive cobwebs dotted about your home, grab the duster and start feathering them away. Twist the duster about as you clean as this movement will encourage the web to cling to the bristles of the duster, making your job less time consuming. You may need to stand on a chair to reach the highest corners of the room which seem to the most common areas to find cobwebs.
7. Clear Shower Drains
If hair is clogging up your shower drain, get a hanger and start rummaging around for drain hair. This is definitely not the most glamourous cleaning task in the world but a clogged drain will only get worse over time so it is a good idea to deal with it sooner rather than later.
8. Discourage Mildew Growth
Damp environments such as the bathroom are the perfect places for mildew to grow and develop. The best way to avoid this nuisance is to keep the room well aired by opening the window on a daily basis.
You may also like: